Reyon Pharmaceutical signed a joint development agreement with Therabest for NK cell therapy
2023.04.11
- Joint development of 'TB-100', an NK cell therapy against solid cancers
- Profit sharing and exclusive supply of pDNA for cell therapy production
Reyon Pharmaceutical expands its biopharmaceutical business through the joint development of NK cell therapy.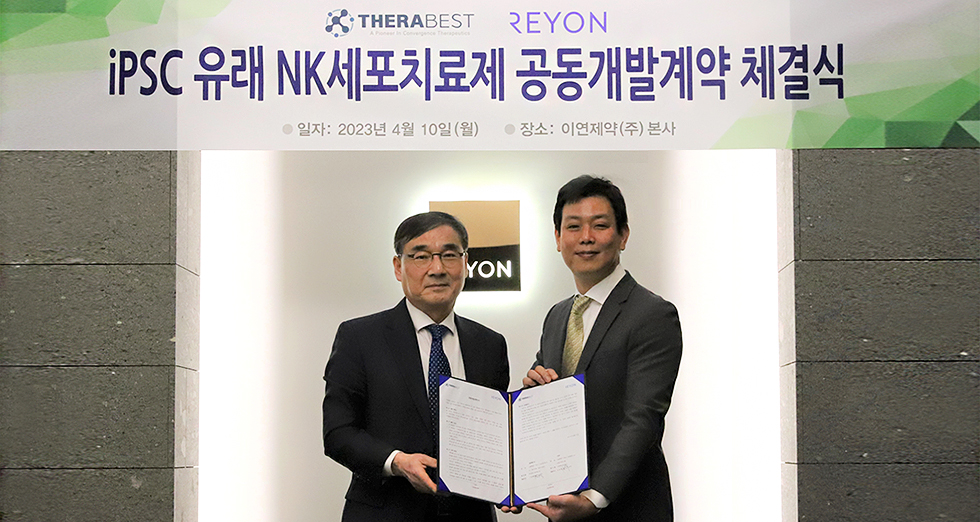 (Ki Pyeong-seok (left), CEO of Therabest, Yoo Yonghwan (right), Representative Director of Reyon Pharmaceutical)
Reyon Pharmaceutical (Representative Directors: Jung SoonOck, Yoo Yonghwan) announced on the 11th that the company had signed a joint development agreement with Therabest (CEO Ki Pyeong-seok) for NK cell therapy for treating solid cancer.
Under this agreement, the two companies will jointly develop iPSC (induced pluripotent stem cell)-derived NK cell therapy 'TB-100' for solid cancer indications. In addition, Reyon Pharmaceutical will secure the right to exclusively manufacture and supply pDNA (plasmid DNA) required to produce the cell therapy product worldwide.
According to the agreement, Reyon Pharmaceutical pays milestones for each stage of clinical development in addition to the upfront money to Therabest, and both parties jointly bear the clinical costs. Thus, Reyon Pharmaceutical will retain a certain percentage of the proceeds generated from future commercialization and the technology transfer to a third-party during development.
Therabest, a biopharmaceutical R&D company fighting incurable diseases, is developing iPSC-derived cell therapy products as a pipeline. In addition, it is the first company in Korea to have a cGMP facility specialized in iPSC-derived cell therapy products.
There are currently no approved products for immune cell therapy for solid cancer worldwide. Also, most approved or clinically underway immune cell therapy are T-cell therapy products targeting hematological cancer.
According to the 2020 major presentations and abstract thesis reviews by American Association for Cancer Research (AACR) under the National Drug Development Fund, CAR-T cell therapy has yet to prove its effectiveness in solid cancers despite the substantial needs of many patients. Therefore, scientists are gearing toward the next-generation iPSC-derived allogeneic NK cell therapy as an alternative. Unlike T cells, NK cell therapy does not attack the recipient's normal cells but selectively kills abnormal cells such as cancer cells. Therefore, it is easy to develop as a homeopathic therapy in the form of a ready-made product.
Therabest can mass-culture NK cells through its independently developed platform technology to differentiate NK cells from iPSC. The iPSC-derived NK cell therapy platform technology is a next-generation NK cell therapy that can continuously produce NK cells without blood in the form of medicines with very homogeneous quality since NK cells are produced from a single iPSC.
This mass-production technology should drastically reduce production costs compared to blood-derived NK cell therapy products. In addition, various clinical trials have proven the safety of repeated administration of NK cell therapy. Therefore, once commercialized at an affordable price, it can provide a practical treatment option to more patients with a high therapeutic effect in solid cancer.
According to the agreement, the two companies plan to jointly conduct a domestic clinical trial in 2024 after completing pre-clinical trials and further discuss global clinical trials later.
Yoo Yonghwan, Representative Director of Reyon Pharmaceutical, "By concluding this agreement, Reyon Pharmaceutical has expanded its biopharmaceutical business to cell therapy products based on its microbial fermentation gene therapy production capabilities.", and emphasized, "We will work with Therabest for the successful development and commercialization of 'TB-100,' a next-generation NK cell therapy, by producing and supplying high-quality pDNA."
Ki Pyeong-seok, the CEO of Therabest, said, "This agreement is the first case to prove Therabest's iPSC-derived NK cell therapy technology.", and continued, "We are fully committed to developing next-generation NK cell therapy to give hope to cancer patients through cooperation with Reyon Pharmaceutical, which has extensive experience producing and developing gene therapy products."
Meanwhile, Reyon Pharmaceutical is revving the GMP certification of its Chungju plant along with ongoing discussions on the joint development of new drug pipelines and CDMO business with several companies for prompt commercial operation after obtaining GMP certification.