Reyon Pharmaceutical signed an MOU with Connext for comprehensive business cooperation in the CDMO business
2022.12.14
CDMO business cooperation for microbial fermentation process development and GMP production
Reyon Pharmaceutical will take its CDMO business to the next level through business cooperation with Connext.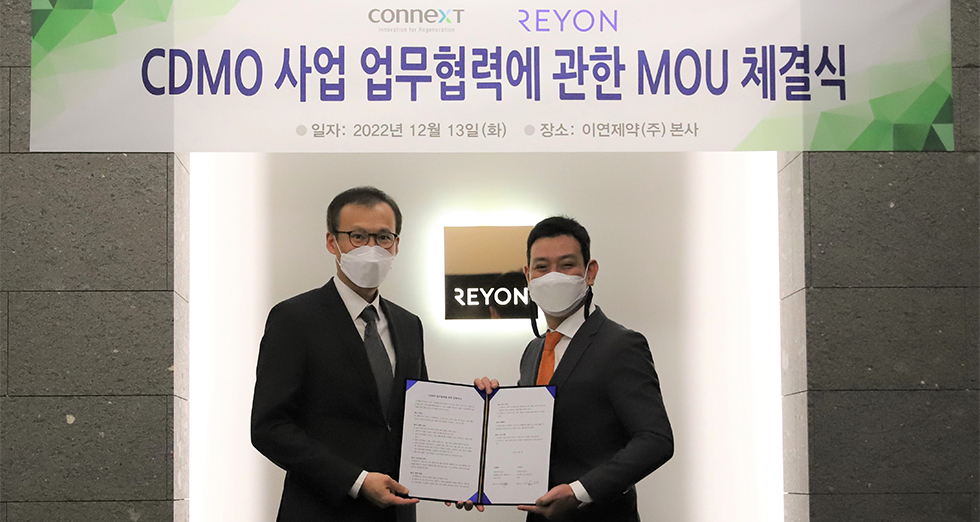 (Lee Woo-jong (left), CEO of Connext, Yoo Yonghwan (right), Representative Director of Reyon Pharmaceutical)
Reyon Pharmaceutical (Representative Directors: Jung SoonOck, Yoo Yonghwan) announced on the 14th that the company had signed a comprehensive MOU with Connext (CEO Lee Woo-jong) for the biopharmaceutical CDMO (contract development and manufacturing) business.
Through this MOU, the two companies will carry out microbial fermentation CDMO business cooperation based on the recombinant protein production system. In addition, they plan to establish a solid cooperative relationship to operate the biopharmaceutical CDMO business and continue business cooperation.
Specifically, Connext will be responsible for process development, analysis method, and formulation development using recombinant protein, and Reyon Pharmaceutical will carry out GMP production. In addition, they plan to expand the CDMO business by attracting pharmaceutical companies and biotech ventures as customers and linking both companies' projects.
Connext develops various biopharmaceuticals to improve the quality of life based on two platform technologies: recombinant TLR5 agonist and recombinant collagenase. The company has so far closed KRW 12.8 billion in VC investments.
Connext's high-purity recombinant protein manufacturing technology and pilot manufacturing facilities can reduce the time required for process development, scale-up, and GMP process of investigational drugs. In addition, Reyon Pharmaceutical's ability to mass-produce drug substances (DS) and finished products (DP, drug products) of biopharmaceuticals can connect the cooperation between the two companies to the commercial production of CDMO.
Furthermore, the two companies agreed to develop various pipelines in addition to the CDMO business cooperation.
Yoo Yonghwan, Representative Director of Reyon Pharmaceutical, said, "We are pleased to support our CDMO business capabilities through cooperation with Connext, which has recombinant protein-based technology.", and continued, "Through this MOU, Reyon Pharmaceutical has expanded its scope to recombinant proteins in addition to microbial fermentation and plasmid DNA businesses. On our way to a global company, we will continue pursuing joint development and CDMO projects with several companies with excellent pipeline and platform technologies."
Lee Woo-jong, CEO of Connext, remarked, "We look forward to collaborating with Reyon Pharmaceutical, which has a world-class GMP manufacturing facility.", and added, "Together with Reyon Pharmaceutical, we will contribute to commercializing new biologics from domestic companies in the near future."
Meanwhile, Reyon Pharmaceutical expands discussions on joint pipeline development and CDMO business with multiple biopharmaceutical companies based on its advanced Chungju production facility.