Reyon Pharmaceutical signed an MOU with Protium Science for comprehensive business cooperation for CDMO business
2022.12.06
Comprehensive business cooperation, including CDO (contract development), CMO (contract manufacturing), and CDMO (contract development and manufacturing)
Reyon Pharmaceutical expands its CDMO business through business cooperation with Protium Science.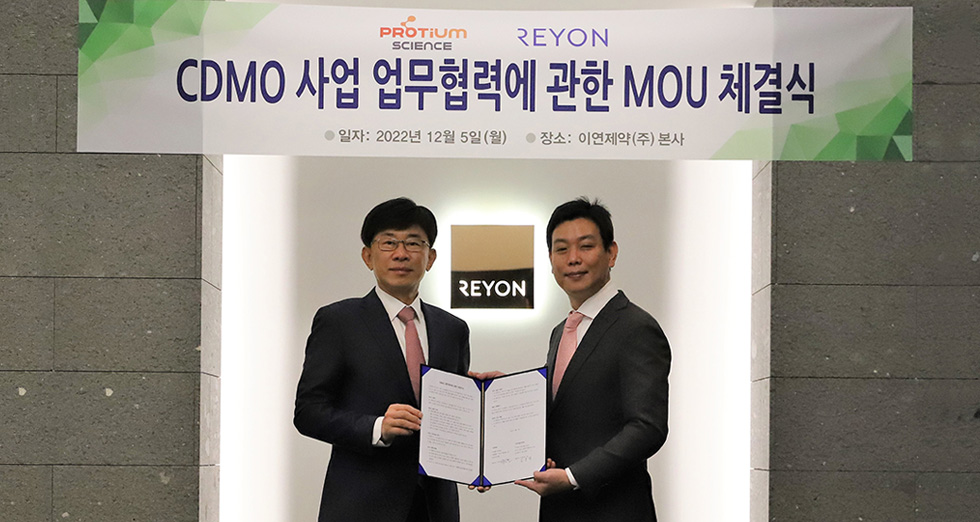 (Kim Hoon-taek (left), CEO of Protium Science, Yoo Yonghwan (right), Representative Director of Reyon Pharmaceutical)
Reyon Pharmaceutical (Representative Directors: Jung SoonOck, Yoo Yonghwan) announced on the 6th that the company had signed a comprehensive MOU with Protium Science (CEO Kim Hoon-taek) for the biopharmaceutical CDMO (contract development and manufacturing) business.
Through this MOU, the two companies plan to establish a cooperative relationship to operate the CDMO business and continue business cooperation based on the technologies and know-how, R&D capabilities, and production facilities accumulated in the biopharmaceutical sector.
Specifically, the two companies will cooperate on developing and producing biopharmaceuticals throughout the life cycle, such as CDO (contract development), CMO (contract manufacturing), and CDMO (contract development and manufacturing). The companies expected to attract pharmaceutical companies or biotech ventures as customers and expand the CDMO business by bridging both companies' projects.
Protium Science, a subsidiary of Tium Bio, a specialized new drug development company, produces biopharmaceuticals and develops cell lines for rare and incurable diseases. The company provides Korea's only analysis-oriented CDAO (contract development and analysis) service with experience and expertise in all CMC (chemistry, manufacturing, controls, i.e., production processes for raw materials and finished drugs) from phase 1 clinical trial to biopharmaceutical product approval.
Reyon Pharmaceutical expands discussions on joint pipeline development and CDMO business with many biotech companies, leveraging the Chungju plant, a state-of-the-art biopharmaceutical production facility. The Chungju plant can produce biopharmaceuticals from raw materials to finished products based on pDNA (plasmid DNA).
The two companies are expected to continue comprehensive business cooperation by exploiting their strengths.
Yoo Yonghwan, Representative Director of Reyon Pharmaceutical, said, "We will achieve excellent results in the biopharmaceutical CDMO business through firm cooperation with Protium Science, which has both experience and expertise from development to analysis of biopharmaceuticals.", and continued, "Through the synergy between the two companies, we will further accelerate our advancement into the global market as well as the domestic market."
Kim Hoon-taek, CEO of Protium Science, said, "We are more than happy to cooperate with Reyon Pharmaceutical, which is growing into a CDMO for advanced biopharmaceuticals such as gene therapy products based on high-purity pDNA technology and facilities.", and added, "The two companies will contribute to increasing the success rate of new drug development for domestic and foreign biotech companies by delivering optimal integrated services."