REYON Pharmaceutical Held Completion Ceremony for Chungju Plants and Declares Its Vision as Global Bio & Chemical Company
2022.04.14
REYON Pharmaceutical officially unveiled the Chungju plants built with the aim of serving as global bio & chemical drug production platforms and declared its commitment to becoming a global company.

REYON Pharmaceutical (co-CEOs Jeong Soon-ok and Yoo Yong-hwan) held a completion ceremony on April 14 at the Chungju bio and chemical plants ("Chungju plants") located in Daesowon-myeon, Chungju-si, Chungcheongbuk-do Province.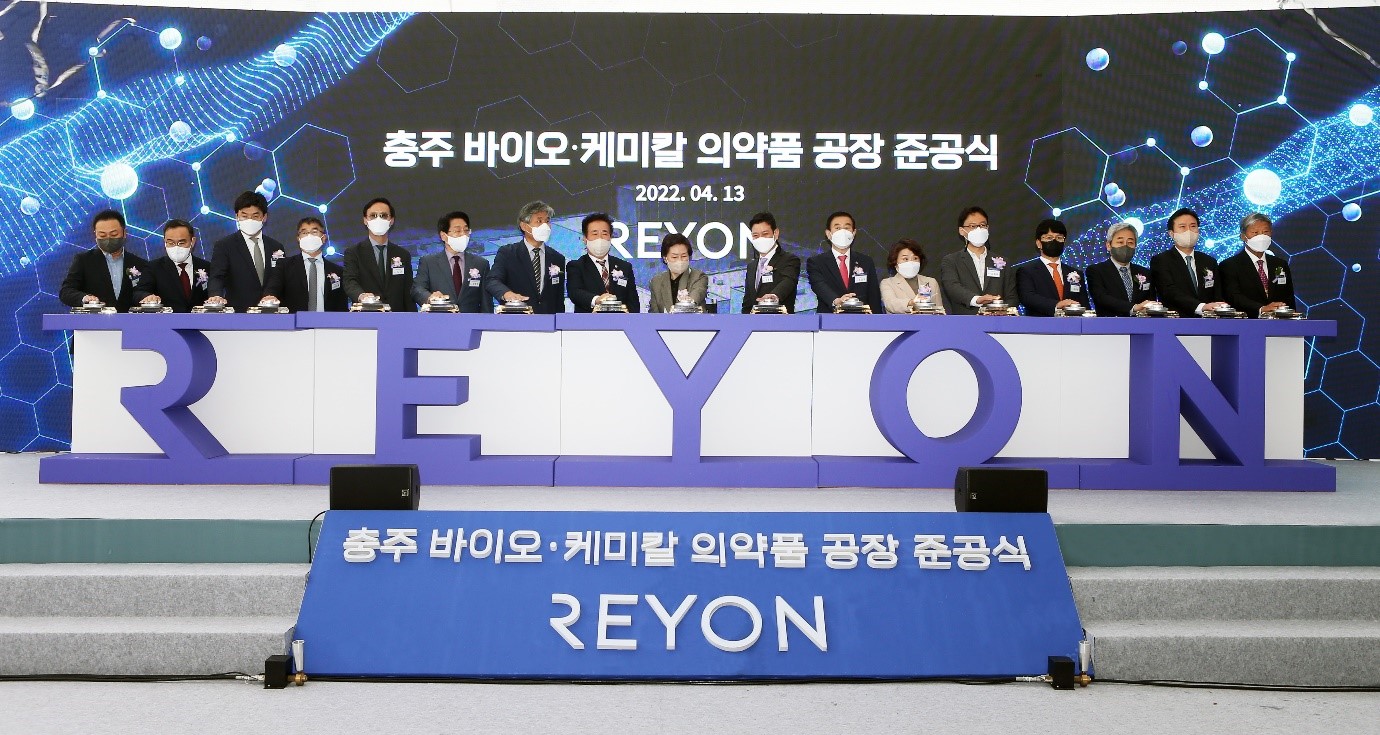 [Celebrating the completion of construction of the Chungju plants on November 13]

The completion ceremony was held in the presence of around 120 people including executives and staff of REYON Pharmaceutical, including Chairman Jeong Soon-ok and President Yoo Yong-hwan, Chungju Mayor Jo Gil-hyeong, Chungju City Council Vice Chairman Kwon Jeong-hee, Chungcheongbuk-do Province Economics and Trade Director Lee Jong-gu, and Korea Pharmaceutical and Bio-Pharma Manufacturers Association Vice Chairman Jang Byeong-won, and executives and employees REYON Pharmaceutical's partners.

The cGMP smart factories were built on a site spanning 76,000 m2 (approx. 22,851 pyeong) in area with a total floor area of 52,000 m2 (approx. 15,800 pyeong). The bio plant was completed last June and the chemical plant last November. The total investment amounted to KRW 300 billion, including the cost of purchasing the land.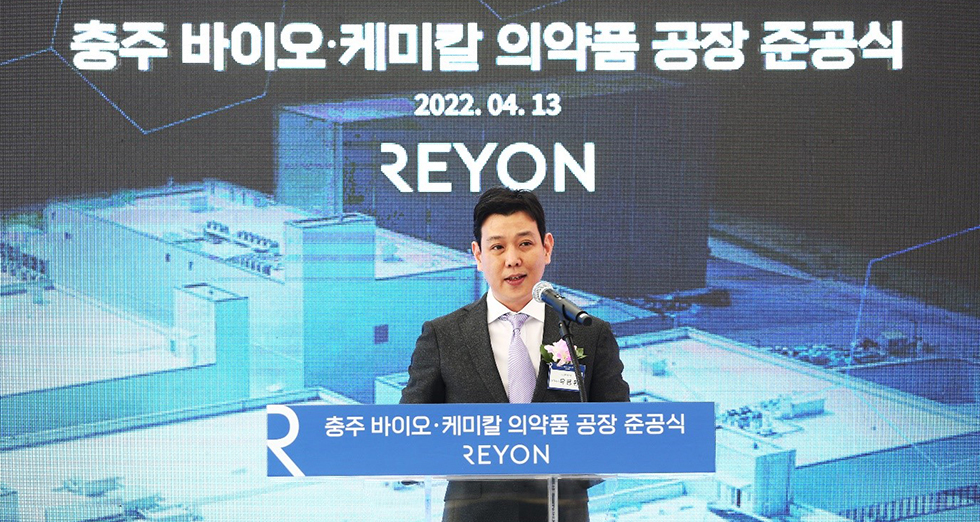 [Yoo Yong-hwan, Co-CEO of REYON Pharmaceutical, giving a commemorative speech at the completion ceremony]

The Chungju plants were designed to connect the production building, office building, and automated warehouse through a single spine passage to maximize the synergistic effect. The operation was optimized based on integrated management of the IT systems.

They are state-of-the-art smart factories with a separate (modularized) space for each formulation, and it will be possible to run them with tremendous flexibility such as adding new items, increasing the production capacity, and adding production lines for various formulations according to the needs of partner and market demand.

The bio plant is the sole facility capable of commercial production of gene therapy products in Korea. It can perform one-stop commercialization throughout the entire drug cycle from experiment and research to drug substance production, process development, and drug product manufacture.

The company plans to manufacture drug substances for biopharmaceuticals such as plasmid DNA (pDNA), AAV, and mRNA through multi-use and single-use incubators of various sizes. A wide range of drug products will be manufactured using single-use production equipment capable of manufacturing up to 48 million vials of injections annually.

REYON Pharmaceutical plans to jointly develop and commercialize pipelines of its partners through the Chungju bio plant to obtain exclusive production rights, in addition to pursuing CMO and CDMO businesses in parallel.

The chemical plant, on the other hand, is capable of mass-producing liquid and freeze-dried injections and medicines in solid oral dosage forms with cGMP production facilities. The company plans on manufacturing its own products and pursuing a business as a contract manufacturing organization (CMO) in the short term, but in the long run, it plans to produce dietary supplements and natural medicines currently under development to advance into the related markets in developed countries.

During the commemorative speech at the completion ceremony, Yoo Yong-hwan, co-CEO of REYON Pharmaceutical, said, "REYON Pharmaceutical has been fulfilling its calling as a 'pharmaceutical company researching the principles of life' for more than 60 years since its establishment and has been relentlessly pursuing its dream of emerging as a global company by localizing medicines. […] Through the Chungju plants, which are the culmination of our experience and know-how, we will contribute to promoting people's health by producing high-quality domestic medicines and make a giant leap forward as a global bio and chemical company."