REYON Pharmaceutical made a term (MOU) with iNtRON Biotechnology & PHAGERUS for joint development and commercialization of vaccine and treatment
2020.12.16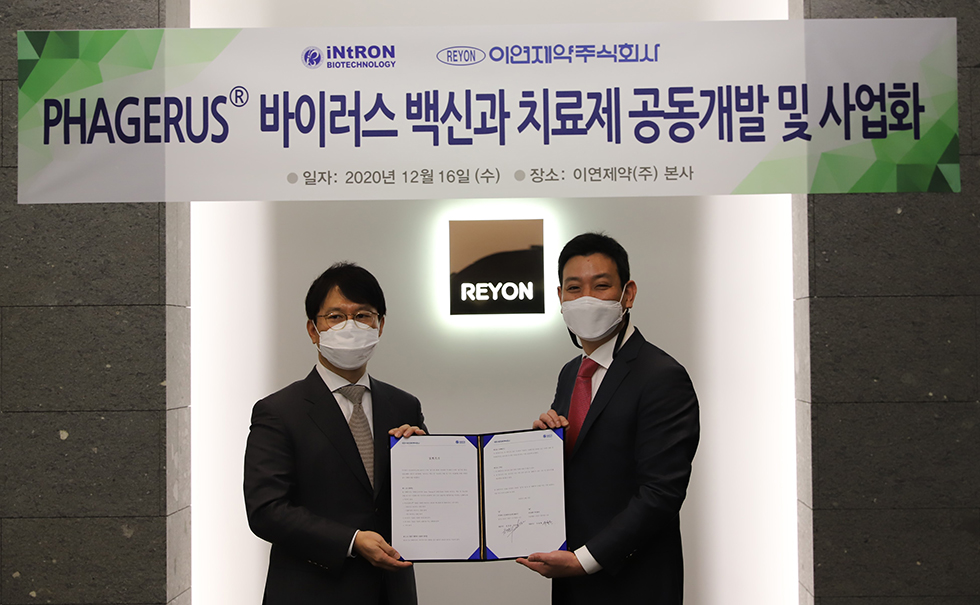 iNtRON Biotechnology(CEO Kyungwon Yoon) and REYON Pharmaceutical (representative directors Sunok Jeong and Yonghwan Yoo) agreed to sign MOU on December 16th for joint development of vaccine platform of fusing PHAGERUS technology and gene therapy specialty for post-corona age.

Through this contract, PHAGERUS technology based on bacteriophage which iNtRON Biotechnology holds and REYON's specialty in gene therapy and advanced manufacturing will merge to create a vaccine which specifically target wanted virus and develop new anti-viral medicine. This will create new business era and open to various research areas.

iNtRON Biotechnology is actively investing new platform technology known as PHAGERUS. Compare to previous platform, this technology is about targeting specific virus using vaccine platform founded in bacteriophage and combined with REYON's gene therapy technology, it can act as a new vaccine platform in the post COVID-19 era.

According to the company, when PHAGERUS technology is applied, engineered robot bacteriophage which expresses antigen on surface can be applied orally or nasally for inducing humoral immunity and cell-mediated immunity; therefore, overcoming various obstacles.

Accordingly PHAGERUS technology, expressing antibody's fragment crystallizable region; Fc region on the surface of robot bacteriophage will target desired area using antigen presenting cell; APC to induce cell-mediated immunity. If special bacteriophage is used as vaccine, one will not require adjuvant resulting in free from safety issue.

Both companies will drive forward on fusing these two technology while working closely together for COVID-19. Through this collaboration, they hope to apply the technology on vaccine for human influenza, avian influenza, and G4 virus. With this technology, we do not require making new vaccines every year since development of universal antigen is feasible. Both companies will invest actively for this project.

CEO of iNtRON Biotechnology Kyungwon Yoon said, "This agreement between iNtRON Biotechnology and REYON pharma is an ideal relationship between Bio and Pharmaceutical to apply various technology platform. Our goal is to develop innovative vaccine platform technologies and will invest heavily to reach the goal".

Representative director of REYON pharmaceutical, Yonghwan Yoo added, "I am very pleased to announce that in addition to many agreements REYON pharm signed with other companies, this contract will also open a door to innovative platform with iNtRON Biotechnology. Currently, we invested 240 billion won to construct Chungju factory and ready to support iNtRON Biotechnology for manufacturing candidate substance; furthermore, as strategic partners, we will maximize our effort to work together through stake sharing. We are expecting fast responds to various virus infection by PHAGERUS technology and hope to overcome any pandemic we might face in near future or post corona age. This is definitely "game changing" in global vaccine market.