REYON Pharmaceutical and Neuracle Genetics entered into an agreement regarding AAV gene therapy
2020.09.16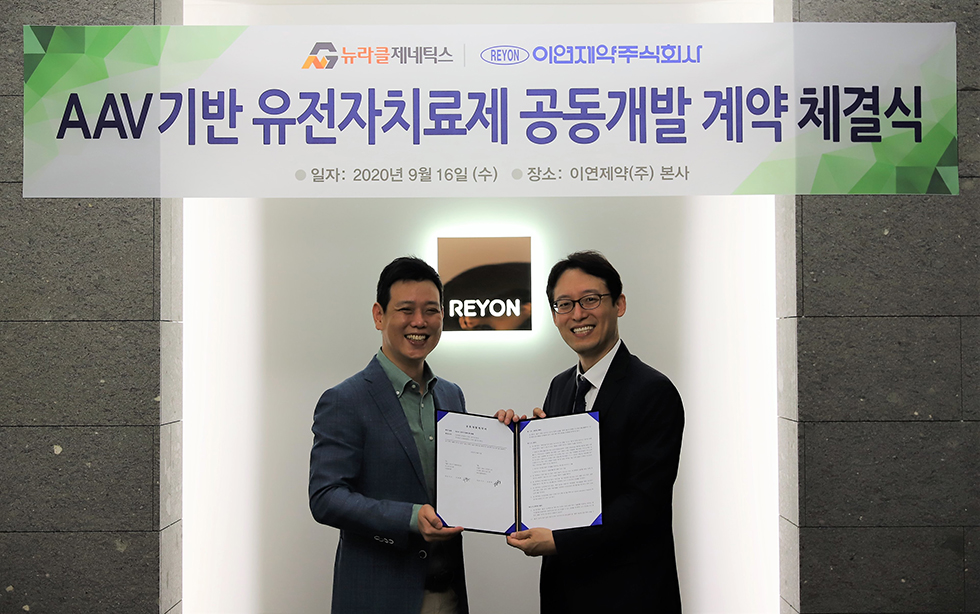 On September 16th, representative directors of REYON Pharmaceutical, Sunok Jeong and Yonghwan Yoo, informed that REYON signed a contract regarding AAV gene therapy with Neuracle Genetics (CEO Jongmuk Kim), in which REYON invested 10 billion korean won back in 2018.

(From the left, CEO of REYON Pharm Yonghwan Yoo and CEO of Neuracle Genetics Jongmuk Kim)
Through this contract, both companies will have the same goal of developing gene therapy of NG101 based on AAV and expect to receive an approval of clinical trial (clinical trial plan) and plan to initiate the first phase of clinical trial testing.

Along with those, REYON Pharmaceutical receives an exclusive right of manufacturing NG101 product; therefore will be able to manufacture the product in Chungju factory for its global sales and distribution.

Neuracle Genetics was established in 2018 for developing AAV(Adeno-associated virus) vector based gene therapy and has granted for exclusive license of "NGDF binding antibody expression gene therapy". With this technology, Neuracle Genetics is developing gene therapy based on AAV.

NG101 is one of their frontline drugs in pipeline and targets wet aging macular degeneration. Wet aging macular degeneration (wAMD) usually appears in people who are older than 55 and loses sights due to aging macula lutiea retinae.

According to P&S intelligence published in 2019, the market size for wAMD is roughly around 69 hundred million dollars and expected to grow by 7.1% annually up to 104 hundred million dollars by the end of 2024.
NG101 is under pre-clinical trial and will proceed to clinical trial after that. Optimization of AAV vector and its laboratory scale manufacturing is completed.

Henceforth, both companies will initiate toxicity experiment while manufacturing drug for clinical trials and plan to enter the first phase of clinical trial in late 2020.

Representative director of REYON Pharmaceutical Yonghwan Yoo said, "With this contract, we are able to take one step forward for commercializing gene therapy based on AAV. Through collaboration with NeuracleGenetics, we will do our best to commercialize gene therapy drug based on AAV". CEO of REYON also added that "ChungJu is the core of REYON's R&D business and the platform of our products".

CEO of Neuracle Genetics Jongmuk Kim quoted that "First, discovering the effective DNA is the core of gene therapy. Second of all, delivering drug to the specific target. Third of all, manufacturing gene therapy drug in high yield. The contract will be the first step toward manufacturing gene therapy with Neuracle Genetics, and this will help REYON to expand its business in gene therapy.

NG101 is developed in NeuracleGenetics with powerful promotor sequence listing which effectively and continuously express afibercept gene. Injecting small amount of NG101 into patient will be very likely to maximize the therapeutic effects and minimize side-effects.